| | |
| --- | --- |
| South of France Workshop Newsletter #2 | April 2013 |
Planning for Avignon arrival and departures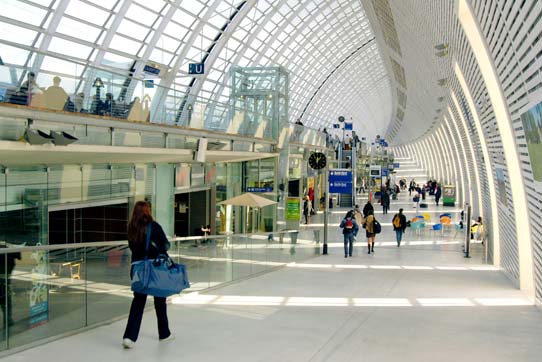 A view inside the Avignon TGV station -- our meeting place on September 10th at 3:30 pm
Greetings everyone!
In order for you to make your final travel arrangements, here are the details about your pickup and return to Avignon TGV station.
PICKING UP: As you know, I will meet you all at 3:30 pm at the Avignon TGV station on Tuesday, September 10. Meet me just inside the front doors in the lobby. Our private bus then will take us directly to the Chateau d'Arpaillarges. Please be aware that the Avignon TGV station accommodates only the fast (TGV) trains. If you are arriving on a non-TGV train, you will arrive at the Avignon Ville station. You can take the shuttle bus from the Avignon Ville train station to the TGV station. Frequent shuttle bus service is available, taking about 10 minutes.
RETURNING TO AVIGNON: At the closure of our workshop on Wednesday, September 18, a private bus will return you to the Avignon TGV station. We will depart from the Chateau at 8 am. We should arrive at the TGV station by 9:15 am. Please make your travel plans accordingly. There is a shuttle bus from the TGV station to the center of Avignon (as well as the Avignon Ville train station), should you wish to enjoy some time there.
Workshop Art Supplies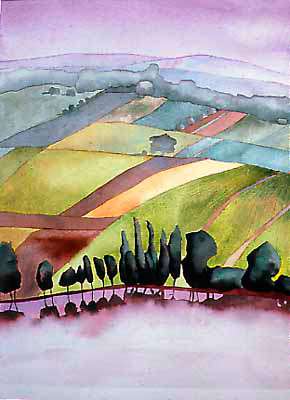 River Reflections
Watercolor by Dory Kanter
During our art lessons at the Chateau, I will introduce you to new and different projects each day to capture the essence of your impressions and experiences. We will explore new ways to make visual notations with a variety of materials and mediums. I've put together an art supply list of items you will need for the workshop. In addition, I will bring a number of special art supplies and materials for you. Do let me know if you have any questions about what to bring.
We will create small scale plein air paintings and quick sketches to visually tell our stories through words and images. Come home with a journal filled with the colors and flavors of the south of France. Delicieux, n'est pas?
Can you guess?

Flavors of Provence
watercolor by Dory Kanter
This painting, from a recent travel journal, commemorates my experience indulging in the delicious and exotic flavors of ice cream in Provence. Can you guess what each of these flavors tastes like? Click for a larger view so you can more easily read the names. It will be fun to do your own ice cream research (and painting) while we are in the south of France!
Dory